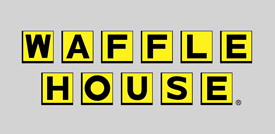 Waffle House University
Once you've completed a module or passed an exam, credit will appear after 48 hours in your History area on your home page.
Welcome to Waffle House University. If you are already a registered user, sign in and you will be taken to your Homepage. In order to enter, you need your assigned Login and Password. The format for each is:

Login:
First Letter of First Name, Middle Initial (if existent), Last Name,
and Last Four Digits of Social

Example: jhsmith4455

Password:
'wh' and Last Four Digits of Social

Example: wh4455





Please take the courses in the training track that has been assigned to you (Either MTS or Right Start).



DO NOT ENROLL YOURSELF IN ANY TRACKS OR COURSES THROUGH THE CATALOG. IF YOU SELF-ENROLL YOURSELF THROUGH THE CATALOG YOU WILL BE BLOCKED FROM TAKING ANY FURTHER COURSES.



If you have questions or need technical support, contact Larry Sigler at 404-518-2041 or send an email to: larrysigler@wafflehouse.com.


Warning: This site is designed for Waffle House Associates only. If you are not an authorized user, exit this site immediately or you will be subject to Federal prosecution.